Function Name:
DER_cert_to_PEM_cert
Function Signature:
DER_cert_to_PEM_cert(DER_cert_bytes)
Parameters:
DER_cert_bytes – The digital certificate of a secure machine (client or server) in DER Format.
Overview:
DER is a binary encoding format in which the contents of a X.509 digital certificate are stored.

PEM is a base64 encoding format that encodes the binary DER using ASCII values A-Z, a-z, 0-9, +, / and =.

Each character in a PEM data represents 6 bits of information from the binary data.

To encode three bytes of data PEM encoding takes four sextets (i.e, the six bit units).

The PEM format has header, data and footer parts. Each line of data consists of 64 characters followed by the platform specific whitespace character.

The method DER_cert_to_PEM_cert() converts a X.509 digital certificate in DER format to PEM format.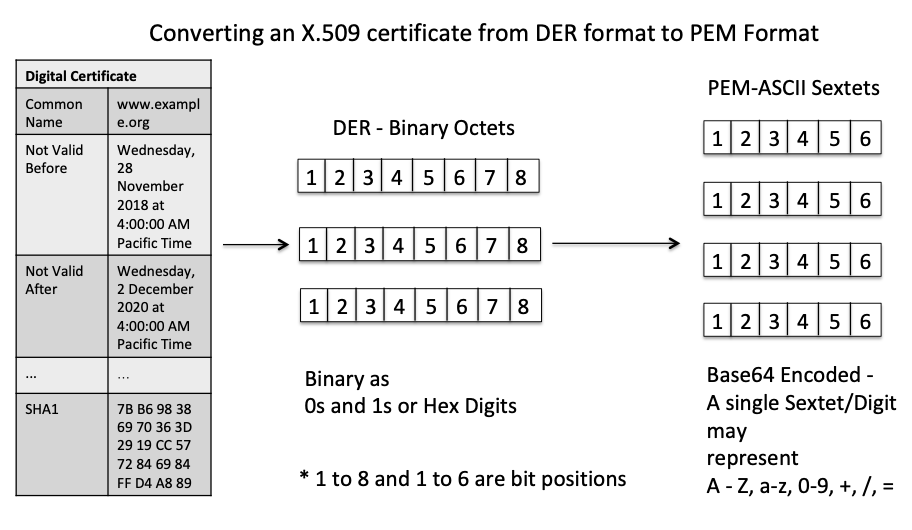 Example:
# Example Python program that converts a digital certificate
# from DER format to PEM format
import socket
import ssl
import platform
import os
# Function to get the certificate of a host in DER foramt
def getDERCertificate(hostname, port):
# Create a streaming socket
connection = socket.socket(socket.AF_INET, socket.SOCK_STREAM);
# Create a secure socket
secureConnection = securityContext.wrap_socket(connection,
server_hostname=hostname);
# Connect to host
secureConnection.connect((hostname, port));
# Get the certificate from the host
cert = secureConnection.getpeercert(binary_form=True);
return cert;
# Create an SSL context
securityContext = ssl.SSLContext();
securityContext.verify_mode = ssl.CERT_REQUIRED;
securityContext.check_hostname = True;
securityContext.load_default_certs();
# Check for OS X platform
if platform.system().lower() == 'darwin':
import certifi
securityContext.load_verify_locations(
cafile=os.path.relpath(certifi.where()),
capath=None,
cadata=None);
# Get the certificate in DER format
cert_DER = getDERCertificate("example.org", 443);
print("Certificate in DER format:");
print(cert_DER);
# Convert the certificate to PEM format
cert_PEM = ssl.DER_cert_to_PEM_cert(cert_DER);
print("Certificate in PEM format:");
print(cert_PEM);
Output:
Certificate in DER format:
b'0\x82\x07@0\x82\x06(\xa0\x03\x02\x01\x02\x02\x10\x0f\xd0x\xddH\xf1\xa2\xbdM\x0f+\xa9k`8\xfe0\r\x06\t*\x86H\x86\xf7\r\x01\x01\x0b\x05\x000M1\x0b0\t\x06\x03U\x04\x06\x13\x02US1\x150\x13\x06\x03U\x04\n\x13\x0cDigiCert Inc1\'0%\x06\x03U\x04\x03\x13\x1eDigiCert SHA2 Secure Server CA0\x1e\x17\r181128000000Z\x17\r201202120000Z0\x81\xa51\x0b0\t\x06\x03U\x04\x06\x13\x02US1\x130\x11\x06\x03U\x04\x08\x13\nCalifornia1\x140\x12\x06\x03U\x04\x07\x13\x0bLos Angeles1<0:\x06\x03U\x04\n\x133Internet Corporation for Assigned Names and Numbers1\x130\x11\x06\x03U\x04\x0b\x13\nTechnology1\x180\x16\x06\x03U\x04\x03\x13\x0fwww.example.org0\x82\x01"0\r\x06\t*\x86H\x86\xf7\r\x01\x01\x01\x05\x00\x03\x82\x01\x0f\x000\x82\x01\n\x02\x82\x01\x01\x00\xd0\xf0\x12t\xa0\x96 r\x08e\x19\x12Z]J\xd0:\x8cf\x8f\xa0)+\xa7\xdb\xd5\xac\x0c\xcf\xa5q\x92\x15B\x15\xb0\x07\x92v1u\xd7\'\x8eMPju\xd1{S^\'\xaa\xed\xeb\xa4`:\xf2\x8eE\x18kE3\\\x85\x11\xaa \x12\xfe`\xac\x9dLE\x8f\xdd\xd3\x0e>w\x0f\t\xc2\x85e4\xc7"\xfbt\x13\xb9B\x9f\xf7!\xf6\xf0\x9cDtm\xc9\xdf\xb3\x1f\x8f`\xb7q\x11\x06\x90cA\x9d\x8f4{$IF\xac\xf2\xf0\x8d\x0bH\xf4\xd3\x92\x1a\xf7\xa2E\xee\xcc\xe5\xd7\x83\x7f.\x82\xbdq\xdd(\x19X3n\x11\xa1:\xa0jr`\x92\x01Y\x9fc\x17zIB{\x9c?\xdb\xd3\x05\xe8\xcc\x87~\xf8\xaa\xfc\x9d\xd1\x05P\xabu\xb1\x1e\xba \xcb\x89\xd4ml7\x82(L\xc5?|\xc1\x10\xf5\xa0\xa5fkSS\xc9\xdb\xed\x85\xc3m\x05\xf8d\xa7\xc9\x0e\xeb\x8f\xe1\xc4\xb1\xeb-h\x0e\x15?\xe5\xe2\xdc\xfc!d-\xeei+\x04x\xdbwe\xcbT\xf9\x02\x03\x01\x00\x01\xa3\x82\x03\xc10\x82\x03\xbd0\x1f\x06\x03U\x1d#\x04\x180\x16\x80\x14\x0f\x80a\x1c\x821a\xd5/(\xe7\x8dF8\xb4,\xe1\xc6\xd9\xe20\x1d\x06\x03U\x1d\x0e\x04\x16\x04\x14f\x98b\x02\xe0\t\x91\xa7\xd9\xe36\xfbv\xc6\xb0\xbf\xa1m\xa7\xbe0\x81\x81\x06\x03U\x1d\x11\x04z0x\x82\x0fwww.example.org\x82\x0bexample.com\x82\x0bexample.edu\x82\x0bexample.net\x82\x0bexample.org\x82\x0fwww.example.com\x82\x0fwww.example.edu\x82\x0fwww.example.net0\x0e\x06\x03U\x1d\x0f\x01\x01\xff\x04\x04\x03\x02\x05\xa00\x1d\x06\x03U\x1d%\x04\x160\x14\x06\x08+\x06\x01\x05\x05\x07\x03\x01\x06\x08+\x06\x01\x05\x05\x07\x03\x020k\x06\x03U\x1d\x1f\x04d0b0/\xa0-\xa0+\x86)http://crl3.digicert.com/ssca-sha2-g6.crl0/\xa0-\xa0+\x86)http://crl4.digicert.com/ssca-sha2-g6.crl0L\x06\x03U\x1d \x04E0C07\x06\t`\x86H\x01\x86\xfdl\x01\x010*0(\x06\x08+\x06\x01\x05\x05\x07\x02\x01\x16\x1chttps://www.digicert.com/CPS0\x08\x06\x06g\x81\x0c\x01\x02\x020|\x06\x08+\x06\x01\x05\x05\x07\x01\x01\x04p0n0$\x06\x08+\x06\x01\x05\x05\x070\x01\x86\x18http://ocsp.digicert.com0F\x06\x08+\x06\x01\x05\x05\x070\x02\x86:http://cacerts.digicert.com/DigiCertSHA2SecureServerCA.crt0\x0c\x06\x03U\x1d\x13\x01\x01\xff\x04\x020\x000\x82\x01\x7f\x06\n+\x06\x01\x04\x01\xd6y\x02\x04\x02\x04\x82\x01o\x04\x82\x01k\x01i\x00w\x00\xa4\xb9\t\x90\xb4\x18X\x14\x87\xbb\x13\xa2\xccgp\n<5\x98\x04\xf9\x1b\xdf\xb8\xe3w\xcd\x0e\xc8\r\xdc\x10\x00\x00\x01g\\1\x95F\x00\x00\x04\x03\x00H0F\x02!\x00\x84d\x81\xb7!\x1d\xfa\x1aH\xf5v\xaeK\xe8F\x86W\'\x17\xb0{\xe9;\xb7JWBl\xa2\x84\xc4l\x02!\x00\xbb\x93\xb5\xfe0\xc4d\xe4\x16L|nXSW\xee\xec\x7f\xaaEO\xbf\x0eF\x8e\xfep\xfd\xfd\x8eBB\x00v\x00\x87u\xbf\xe7Y|\xf8\x8cC\x99_\xbd\xf3n\xffV\x8dGV6\xffJ\xb5`\xc1\xb4\xea\xff^\xa0\x83\x0f\x00\x00\x01g\\1\x96\x15\x00\x00\x04\x03\x00G0E\x02 o\xaaw\xd2\x1c\xa7\x94\xc0c-.\xb3\x86\xddA\x8b@\x8a\x1a/\x7f\xaef\xc1\x93_s\x1fH\x93P\x11\x02!\x00\xd2\xf9\x9dH\x86\x05\x1e\xa0\x97D%\x0b<\xea\xce\xfa+\x19|\x81\xff\'{\x9e\xdbX\xb6\xdc\xe8\xf0JN\x00v\x00oSv\xac1\xf01\x19\xd8\x99\x00\xa4Q\x15\xffw\x15\x1c\x11\xd9\x02\xc1\x00)\x06\x8d\xb2\x08\x9a7\xd9\x13\x00\x00\x01g\\1\x96\x9c\x00\x00\x04\x03\x00G0E\x02!\x00\xe4y\xfbC\x84\x8e\xca\xa1\xe4O\xe9\x03\xb0z\xbb\x92\xee\xf3D;\x8c\xec\xfe\x14\r}\x9f\xb7c)\x9f-\x02 MwZ\xdcI\x01J\xf4h\x04\x85a\x9f\xd7\x8d \x0c1\xfa\xc1\xd3\xf4q\n[\xd6V\xcb=,r\x8c0\r\x06\t*\x86H\x86\xf7\r\x01\x01\x0b\x05\x00\x03\x82\x01\x01\x00sp\x85\xef@A\xa7jC\xd5x\x9c{UH\xe6\xbck\x99\x86\xba\xfb\r\x03\x8bx\xfe\x11\xf0)\xa0\x0c\xcdi\x14\x0b\xc6\x04x\xb2\xce\xf0\x87\xd5\x01\x9d\xc4Yzq\xfe\xf0n\x9e\xc1\xa0\xb0\x91-\x1f\xea=U\xc53\x05\x0c\xcd\xc15\x18\xb0jhfL\xbfV!\xda[\xd9H\xb9\x8c5!\x91]\xdcu\xd7zF,"\'\xa6o\xd3:\x17\xeb\xbe\xbd\x13\xc5\x12&s\xc0]\xa35\x89j\xfb\'\xd4\xdd\xaatt.7\xe5\x01;\xa6\xd00\xb0\x83\xd0\xa1\xc4u!\x85\xb2\xe5\xfag\x000\xa2\xbcS\x83M\xbf\xd6\xa8\x83\xbb\xbc\xd6\xed\x1c\xb3\x1e\xf1X\x03\x82\x00\x8e\x9c\xef\x90\xf2\x1a_\xa2\xa3\x06\xda]\xbe\x9f\xda]\xa6\xe6/\xdeX\x80\x18\xd3\xf1b{\xa6\xa3\x9f\xae\xa8irc\x81e\xae\x82\x83\xa3\xb5\x97\x8a\x9b Q\xff\x1a?a@\x1eH\xd0k8\xf9\xe1\xfa\x17\xd8wJ\x88\xe6=6$O\xef\n\xb9\x9fp\xf3\x83\'\xf8\xcf*\x05u\x10\xa1\x8a\n\x80\x88\xcd'
Certificate in PEM format:
-----BEGIN CERTIFICATE-----
MIIHQDCCBiigAwIBAgIQD9B43Ujxor1NDyupa2A4/jANBgkqhkiG9w0BAQsFADBN
MQswCQYDVQQGEwJVUzEVMBMGA1UEChMMRGlnaUNlcnQgSW5jMScwJQYDVQQDEx5E
aWdpQ2VydCBTSEEyIFNlY3VyZSBTZXJ2ZXIgQ0EwHhcNMTgxMTI4MDAwMDAwWhcN
MjAxMjAyMTIwMDAwWjCBpTELMAkGA1UEBhMCVVMxEzARBgNVBAgTCkNhbGlmb3Ju
aWExFDASBgNVBAcTC0xvcyBBbmdlbGVzMTwwOgYDVQQKEzNJbnRlcm5ldCBDb3Jw
b3JhdGlvbiBmb3IgQXNzaWduZWQgTmFtZXMgYW5kIE51bWJlcnMxEzARBgNVBAsT
ClRlY2hub2xvZ3kxGDAWBgNVBAMTD3d3dy5leGFtcGxlLm9yZzCCASIwDQYJKoZI
hvcNAQEBBQADggEPADCCAQoCggEBANDwEnSgliByCGUZElpdStA6jGaPoCkrp9vV
rAzPpXGSFUIVsAeSdjF11yeOTVBqddF7U14nqu3rpGA68o5FGGtFM1yFEaogEv5g
rJ1MRY/d0w4+dw8JwoVlNMci+3QTuUKf9yH28JxEdG3J37Mfj2C3cREGkGNBnY80
eyRJRqzy8I0LSPTTkhr3okXuzOXXg38ugr1x3SgZWDNuEaE6oGpyYJIBWZ9jF3pJ
QnucP9vTBejMh374qvyd0QVQq3WxHrogy4nUbWw3gihMxT98wRD1oKVma1NTydvt
hcNtBfhkp8kO64/hxLHrLWgOFT/l4tz8IWQt7mkrBHjbd2XLVPkCAwEAAaOCA8Ew
ggO9MB8GA1UdIwQYMBaAFA+AYRyCMWHVLyjnjUY4tCzhxtniMB0GA1UdDgQWBBRm
mGIC4AmRp9njNvt2xrC/oW2nvjCBgQYDVR0RBHoweIIPd3d3LmV4YW1wbGUub3Jn
ggtleGFtcGxlLmNvbYILZXhhbXBsZS5lZHWCC2V4YW1wbGUubmV0ggtleGFtcGxl
Lm9yZ4IPd3d3LmV4YW1wbGUuY29tgg93d3cuZXhhbXBsZS5lZHWCD3d3dy5leGFt
cGxlLm5ldDAOBgNVHQ8BAf8EBAMCBaAwHQYDVR0lBBYwFAYIKwYBBQUHAwEGCCsG
AQUFBwMCMGsGA1UdHwRkMGIwL6AtoCuGKWh0dHA6Ly9jcmwzLmRpZ2ljZXJ0LmNv
bS9zc2NhLXNoYTItZzYuY3JsMC+gLaArhilodHRwOi8vY3JsNC5kaWdpY2VydC5j
b20vc3NjYS1zaGEyLWc2LmNybDBMBgNVHSAERTBDMDcGCWCGSAGG/WwBATAqMCgG
CCsGAQUFBwIBFhxodHRwczovL3d3dy5kaWdpY2VydC5jb20vQ1BTMAgGBmeBDAEC
AjB8BggrBgEFBQcBAQRwMG4wJAYIKwYBBQUHMAGGGGh0dHA6Ly9vY3NwLmRpZ2lj
ZXJ0LmNvbTBGBggrBgEFBQcwAoY6aHR0cDovL2NhY2VydHMuZGlnaWNlcnQuY29t
L0RpZ2lDZXJ0U0hBMlNlY3VyZVNlcnZlckNBLmNydDAMBgNVHRMBAf8EAjAAMIIB
fwYKKwYBBAHWeQIEAgSCAW8EggFrAWkAdwCkuQmQtBhYFIe7E6LMZ3AKPDWYBPkb
37jjd80OyA3cEAAAAWdcMZVGAAAEAwBIMEYCIQCEZIG3IR36Gkj1dq5L6EaGVycX
sHvpO7dKV0JsooTEbAIhALuTtf4wxGTkFkx8blhTV+7sf6pFT78ORo7+cP39jkJC
AHYAh3W/51l8+IxDmV+9827/Vo1HVjb/SrVgwbTq/16ggw8AAAFnXDGWFQAABAMA
RzBFAiBvqnfSHKeUwGMtLrOG3UGLQIoaL3+uZsGTX3MfSJNQEQIhANL5nUiGBR6g
l0QlCzzqzvorGXyB/yd7nttYttzo8EpOAHYAb1N2rDHwMRnYmQCkURX/dxUcEdkC
wQApBo2yCJo32RMAAAFnXDGWnAAABAMARzBFAiEA5Hn7Q4SOyqHkT+kDsHq7ku7z
RDuM7P4UDX2ft2Mpny0CIE13WtxJAUr0aASFYZ/XjSAMMfrB0/RxClvWVss9LHKM
MA0GCSqGSIb3DQEBCwUAA4IBAQBzcIXvQEGnakPVeJx7VUjmvGuZhrr7DQOLeP4R
8CmgDM1pFAvGBHiyzvCH1QGdxFl6cf7wbp7BoLCRLR/qPVXFMwUMzcE1GLBqaGZM
v1Yh2lvZSLmMNSGRXdx113pGLCInpm/TOhfrvr0TxRImc8BdozWJavsn1N2qdHQu
N+UBO6bQMLCD0KHEdSGFsuX6ZwAworxTg02/1qiDu7zW7RyzHvFYA4IAjpzvkPIa
X6KjBtpdvp/aXabmL95YgBjT8WJ7pqOfrqhpcmOBZa6Cg6O1l4qbIFH/Gj9hQB5I
0Gs4+eH6F9h3SojmPTYkT+8KuZ9w84Mn+M8qBXUQoYoKgIjN
-----END CERTIFICATE-----