Overview:
Mean Absolute Deviation (MAD) is computed as the mean of absolute deviation of data points from their mean.
pandas DataFrame class has the method mad() that computes the Mean Absolute Deviation for rows or columns of a pandas DataFrame object.
When mad() is invoked with axis = 0, the Mean Absolute Deviation is calculated for the columns. When axis=1, MAD is calculated for the rows.

NaN values can be skipped using the optional Boolean parameter skipna. skipna=True skips the NaN values. skipna=False includes the NaN values. The default value for skipna is True.
Example 1:
import pandas as pd
dataSet = {"C1":(6.5, 5.1, 5.6, 7.0, 7.1, 7.45, 7.75, 8),
"C2":(7, 7.1, 7.2, 6, 6.1, 6.3, 5.1, 5.2)
}
dataFrame = pd.DataFrame(data=dataSet);
print("DataFrame:");
print(dataFrame)
# Calculate Mean Absolute Deviation of DataFrame columns
mad = dataFrame.mad();
print("Mean absolute deviation of columns:");
print(mad);
# Calculate Mean Absolute Deviation of DataFrame rows
mad = dataFrame.mad(axis=1);
print("Mean absolute deviation of rows:");
print(mad);
Output: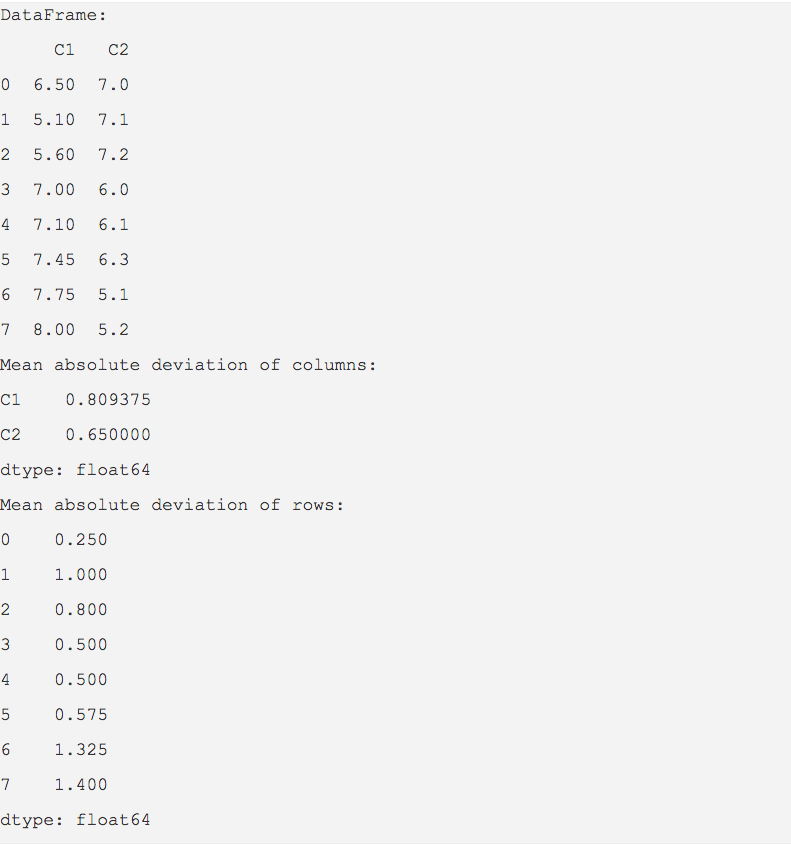 Example 2:
import pandas as pd
dataValues = [(2, 3, 5, 7,),
(11, 13, 17, 19),
(23, 29, None, None),
(31, 37, None, None)]
dataFrameOject = pd.DataFrame(data=dataValues);
print("DataFrame:");
print(dataFrameOject)
# Calculate MAD for the DataFrame columns
mad = dataFrameOject.mad(axis=0);
print("Mean absolute deviation of columns(NaNs skipped):");
print(mad);
# Calculate MAD for the DataFrame columns
mad = dataFrameOject.mad(axis=0, skipna=False);
print("Mean absolute deviation of columns(NaNs included):");
print(mad);
# Calculate MAD for the DataFrame rows
mad = dataFrameOject.mad(axis=1);
print("Mean absolute deviation of rows(NaNs skipped):");
print(mad);
# Calculate MAD for the DataFrame rows
mad = dataFrameOject.mad(axis=1, skipna=False);
print("Mean absolute deviation of rows(NaNs included):");
print(mad);
Output: